Meals on Wheels Orange County nourishes the wellness, purpose and dignity of older adults and their families in our community.  For over 50 years we have worked together in homes and in the community to erase hunger and loneliness for impoverished seniors.  We have seen tens of thousands of older adults through their daily life challenges as they strive to live independently.
The Meals on Wheels Orange County Continuum of Care is our model of providing multiple types of programs and services so older adults can live independently in Orange County by matching their support services to their personal level of need.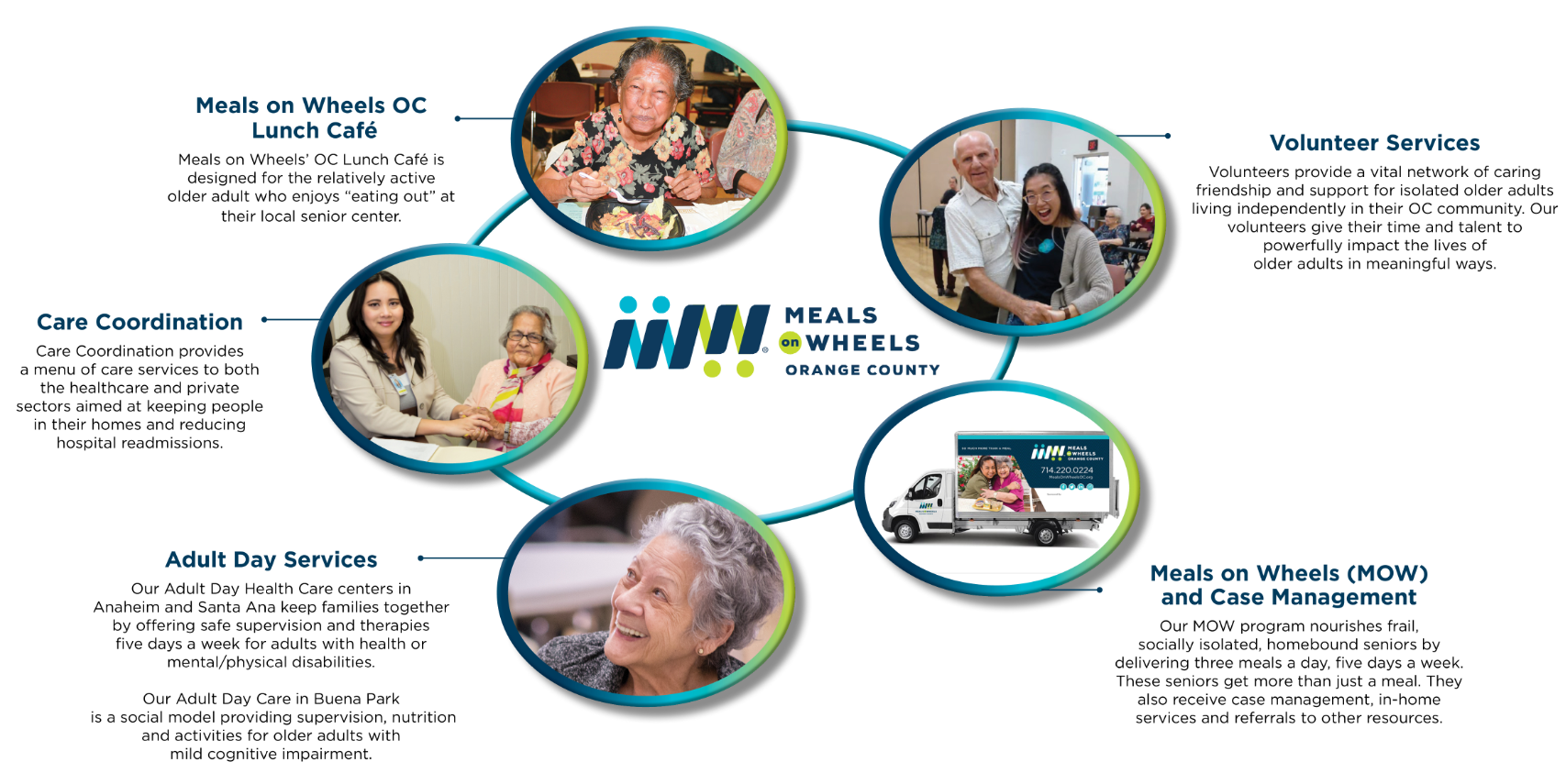 Improving Lives
In keeping with our values, Meals on Wheels Orange County is continuously learning how to make the greatest impact through our programs and with the resources our supporters provide. Embedded in the design and delivery of Meals on Wheels Orange County programs is evaluation of our progress and results.
Meals on Wheels & Case Management Results
Meals on Wheels Orange County is one of the largest nonprofit senior nutrition programs in California and in the United States. Our Meals on Wheels program is one of Meals on Wheels Orange County's flagship nutrition programs.  Also known as Home Delivered Meals, the program is for homebound and frail older adults who can no longer shop or cook for themselves.  Meals on Wheels clients receive breakfast, lunch and dinner, five days a week.  The program is funded in part by the Older Americans Act (Title III grants).
The Meals on Wheels and Case Management program research was conducted by DoctorS Nonprofit Consulting.
The study included 1,279 frail, homebound seniors who received both Meals on Wheels and Case Management services.
The study found participants:
Gained an average of 2 pounds while receiving Meals on Wheels
Received 141% more referrals to support services
Reported a 20% increase in overall well-being
Meals on Wheels Orange County serves a hot, nutritious lunch at 23 Senior Centers in 20 cities in north and central Orange County.  Evaluation of the program was independently conducted by Doctors Nonprofit Consulting and included 1,200 older adults who participate in the lunch program at their local senior center.  This program is funded in part by the Older Americans Act (Title III grants).  Participating adults report:
say lunches improved quality of life
say their physical health has improved
say they have more friends