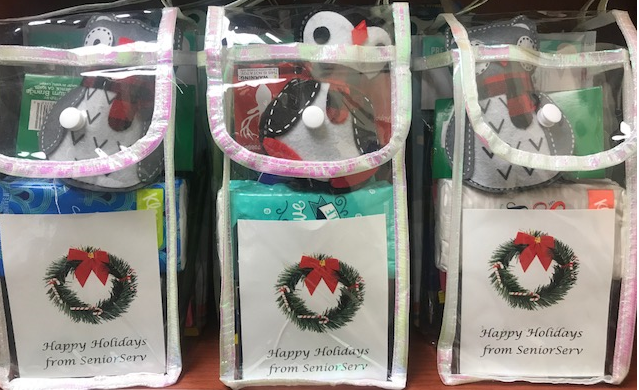 "Everything in here is of use to me and it is my only gift under the tree.
This is such a nice thing. Thank you so much."
-A Holiday Gift Program recipient
The holiday season can often be a time of loneliness for many senior citizens. We're working to change that. Our Holiday Gift Program is dedicated to helping seniors in Orange County feel loved and appreciated during the holiday season by providing small gift bags filled with items that recipients want and need.
This program is only made possible because of volunteers. We partner with companies, organizations, and individuals to put together special gift bags and gift cards dedicated towards providing both entertainment and essentials to our senior citizens. Join us today to bring a smile to a senior this holiday season!
This year's program runs from October 25 – December 10.
We are currently in need of gift cards for our seniors, and we always welcome donations for meals year-round.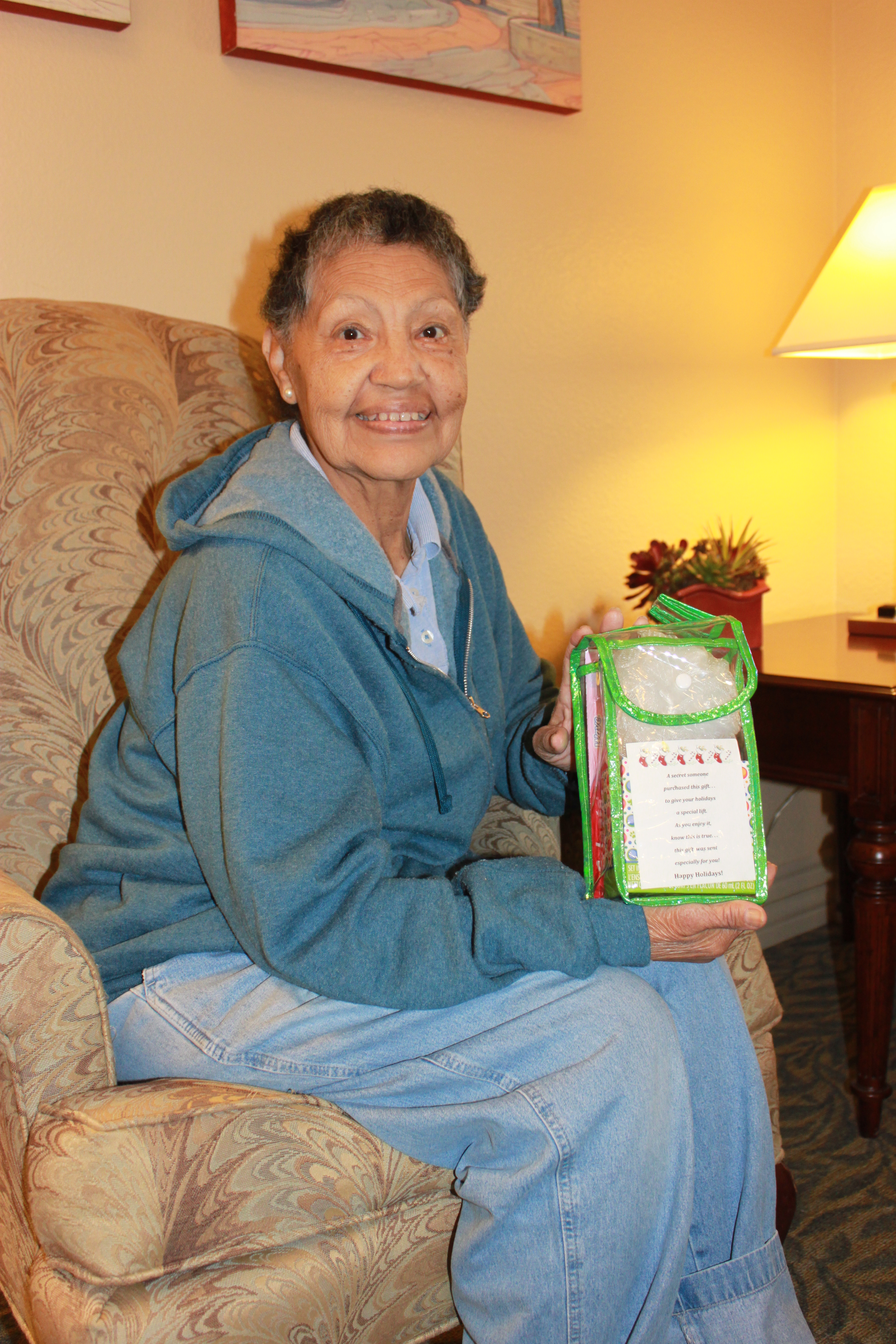 One of our gift recipients happily shows off the bag she received from a volunteer.
Participating in the Holiday Gift Program is easy and fun:
Donors receive a clear vinyl Holiday Gift Bag provided by Meals on Wheels Orange County to fill with gifts.
Purchase a variety of items from the shopping list to fill the holiday bag.
Insert suggested Holiday Meal donation inside the donation envelope and place inside the bag.
Return the bag and donation envelope to Meals on Wheels Orange County by the December deadline.
An alternate to the Holiday Gift Bag is the Holiday Gift Card:
Purchase a $25 prepaid Debit card, Target, or Walmart card.
Place gift card in Holiday Greeting card provided by Meals on Wheels Orange County.
Place stamp on envelope and return to Meals on Wheels Orange County by the cut-off date. Meals on Wheels Orange County will address and send card to a senior.
For many seniors, the gift bag we give will be the only present they receive this holiday season. For others, they provide valuable essentials that they normally wouldn't be able to buy for themselves. For all seniors, the gift bags are a welcome expression of love and appreciation.
The Holiday Gift Program is a great way to show love to our community as an organization. Churches, corporations, and businesses have all partnered with us to brighten a senior's holiday season.
Contact us below to inquire about registering your group to volunteer in the Holiday Gift Program.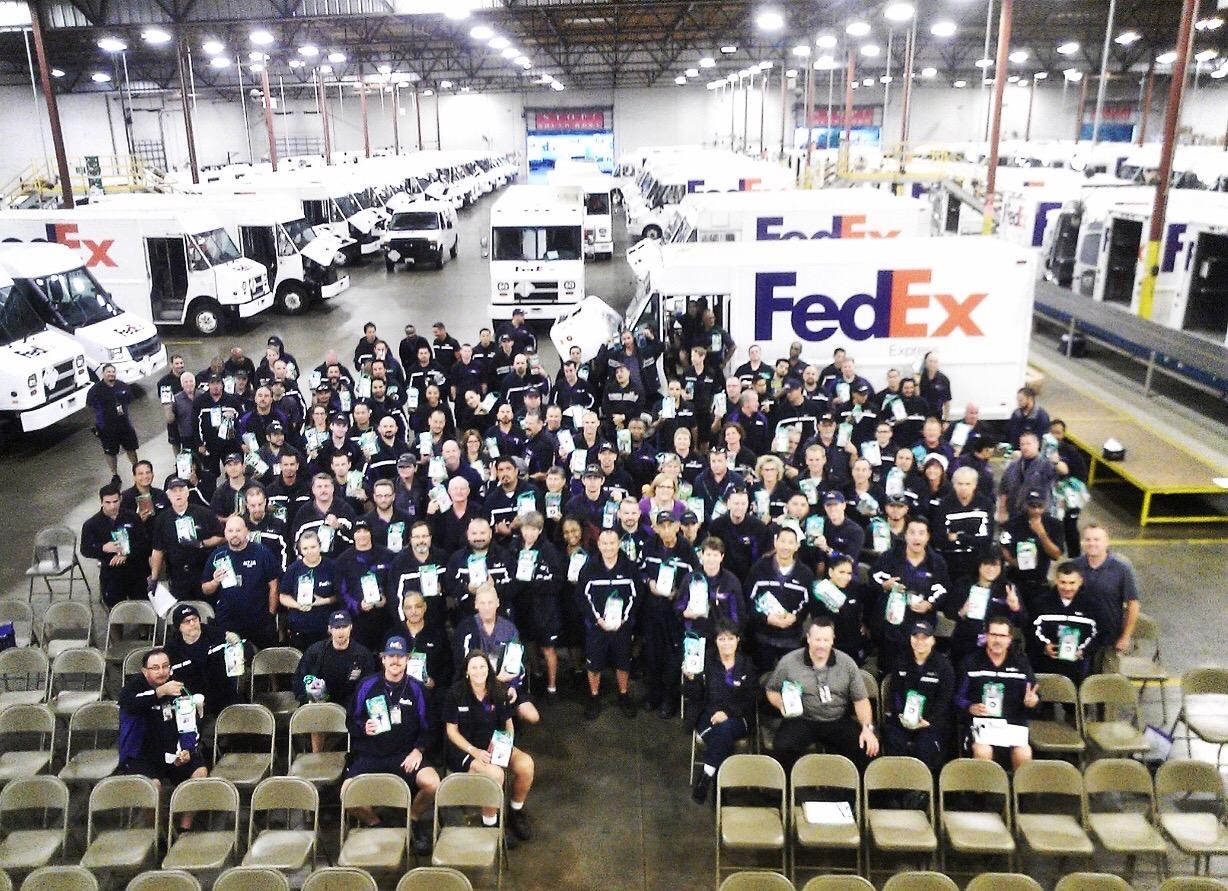 Volunteers at FedEx worked together to fill bags for our seniors as a team.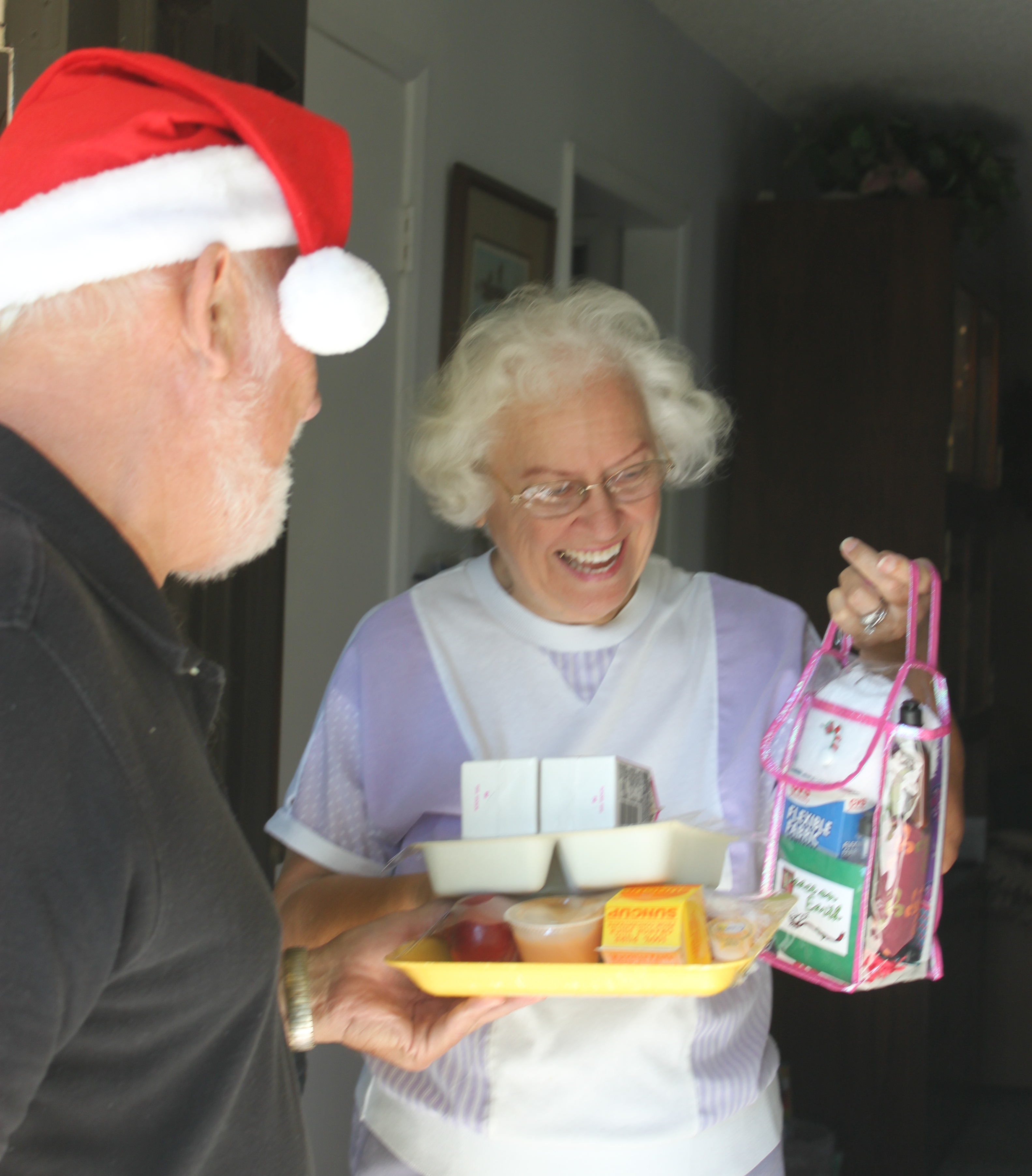 "Hello there, my name is Evelyn S. and I'm calling to thanks whoever this person is to leave a gift for an old lady like me. I'm almost 93 years old and this is such a kind act. I bet this person does random acts of kindness all year and probably done it before then. Everything that was in this box was needed. I can name a few but I get a little nervous talking on the phone. That's what I used to do at Boeing. I'm retired now. But I do want to thank you for sending this beautiful little poem and thank you for taking my message. I'd like to give this person a big hug and you too. Thank you so much, bye bye."
"Hi! This is Mr. and Mrs. R. Thank you for the gift bags. One had a flashlight with a placemat in it. And one had toothbrushes and toothpaste and all kinds of bandaids. And thank you for the thought. At least we got to open something for Christmas. We have no money for Christmas. We were not able to get anything. But thank you for the gift bags. At least we had something to open. And thank you for the Meals On Wheels. Bye bye."
"Hi, my name is Mike P. I'm so thrilled and excited out of my gourd for such a beautiful little card from Target and the $25 gift card. Thanks so much and you made my Christmas. Thanks, God Bless."
Contact Us to Volunteer Today
Linda Molthen
(714) 229-3377
lmolthen@mealsonwheelsoc.org