It's easy to overindulge during the fall, but these lettuce wraps will help keep you on track!  Developed by Meals on Wheels OC staff Registered Dietician, Anna Hamada!
Lettuce Wraps
Serves: 3
Ingredients:
6 leaves of lettuce (romaine, red leaf, bibb, butter)
8 oz tofu, extra firm, drained well
1 tbsp Less Sodium teriyaki sauce
1/2 tsp ground ginger
1-2 tsp canola oil
1/2 large bell pepper, seeded, julienne
1/2 cup shredded carrots
4 scallions, sliced thin on a diagonal
1/4 cup canned, sliced water chestnuts, drained, julienne
1/2 cup canned bean sprouts, drained
1/4 cup Hoisin sauce
1/4 cup unsalted, peanuts, chopped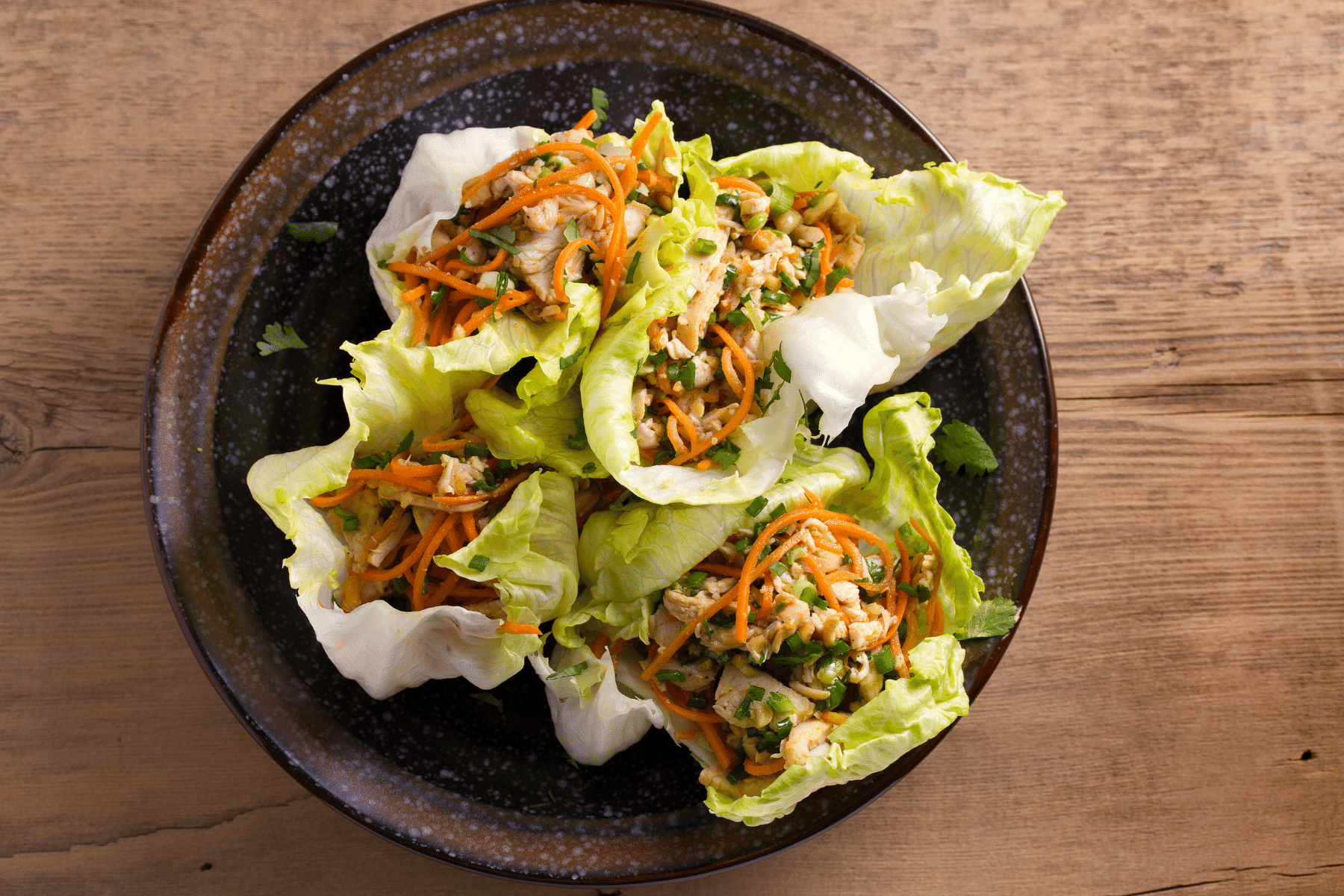 Directions:
Wash and pat dry lettuce leaves. Set aside.
Slice tofu in half and press dry with a paper towel to remove as much moisture. Cut tofu into cubes and place in a bowl. Add teriyaki sauce and ginger and toss gently.
In a large non-stick skillet, add 1 tsp oil and heat over medium heat. When skillet is hot add tofu carefully and cook until tofu turns a light golden color, about 5-7 minutes. Cover pan to reduce spattering if needed.
Turn off heat Remove skillet from stove and spoon tofu onto a plate with a paper towel to drain off any excess oil.
Place skillet back on stove, add remaining oil if needed and turn heat to medium. Heat pan and add all the vegetables. Toss with tongs. When tender add hoisin sauce and tofu. Toss gently with tongs and cook until heated thoroughly. Turn off heat.
Lay lettuce on a work surface with the stem side closest to you. Divide tofu veggie mixture between them. Sprinkle with the peanuts. Roll leaf around filling like a burrito and secure with toothpicks.
Nutrition Information: 233 calories, 13g protein, 22gm carbohydrates, 12g fat, lg saturated fat, 0g trans fat, 0.64mg cholesterol, 195mg calcium, 50lmg sodium, 376mg potassium, 5115 IU Vitamin A.