Speak up for seniors.
Together, our voices are amplified and we can make a huge difference.
State Action
The California Assembly has proposed budgeting $10 million in recurring annual funding for Senior Nutrition Programs, whereas the California Senate has not taken action to support it. It is now up to the State's Budget Conference Committee and they need to hear from their constituents to support Meals on Wheels and Senior Center Lunch Programs.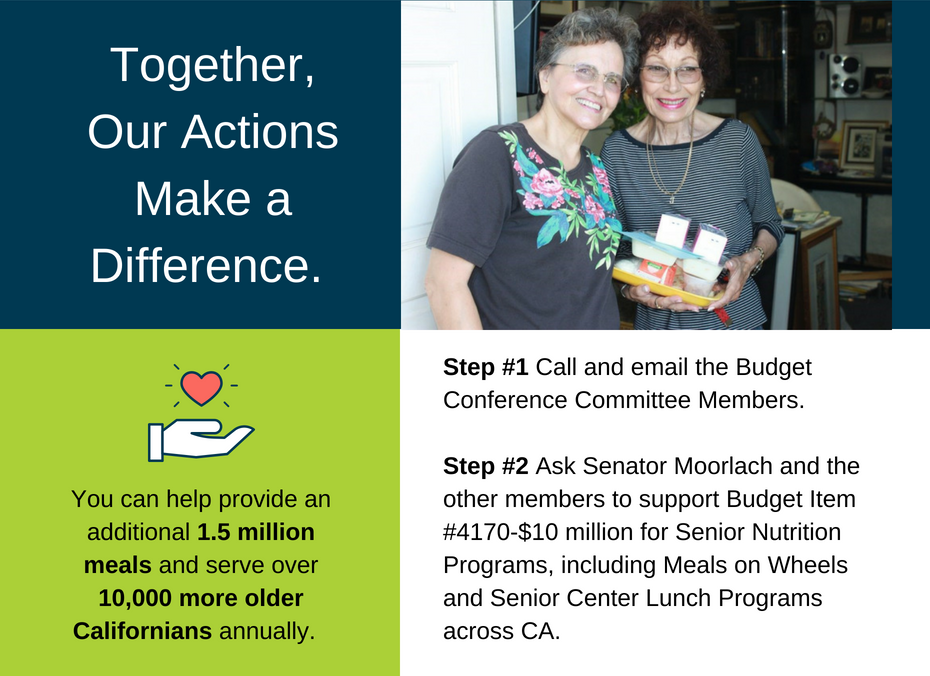 Federal Action
We call on you to continue to help us build on the bipartisan support that exists for Older Americans Act (OAA) Home-Delivered and Congregate Nutrition Programs and the foundational $59 million increase that was provided to these programs in Fiscal Year (FY) 2018 and advocate to further increase funding for OAA Nutrition Programs by $100 million over FY 2018 levels, for a total of $996.7 million in funding for FY 2019.
Click the button below, then click "take action" under FY 2019 Nutrition Appropriations to tell Congress that seniors deserve to get their part of the 2019 budget.
The Older Americans Act saves the lives of seniors
and saves the economy
$12.13 million to Orange County in 2015
Nonprofit subcontractors increase the impact of OAA funding through support services:

Meals on Wheels, Case Management, and Home Services
Senior Center Lunch Programs
Aging & Disability Resource Center
Adult Day Care and Legal Services
Long-term Care Ombudsman
Family Care Giver Support
Elder Abuse & Neglect Prevention.

Programs save Medicaid and Medicare dollars
Programs reduce hospitalizations and institutionalization
Programs Increase wellness, dignity, and independence
Call your local representatives

and tell them you favor the sustained funding of The Older Americans Act – Senior Nutrition Programs.
Thank you for being an advocate for this very important funding.