Lunch Café: Coming Together For Food & Friendship 
Welcome to Lunch Café!
We are excited to share that our Lunch Café program is now available at 25 local senior centers. Come eat out, socialize around a nutritious meal served by volunteers and staff, meet people with shared interests, and join in other activities the center and the community offer.
Click on the "See Our Locations" button below to find an open Lunch Café site near you to make a reservation.
The Lunch Café is open to anyone 60 or older. There is a suggested contribution of $3.00, but everyone is welcome, even if a contribution is not possible. Guests under 60 can enjoy lunch for a fee of $5.00. Every contribution goes directly to help keep this vital program going.
Poor nutrition is especially prevalent among older adults who live alone or are on limited incomes in Orange County. Our Lunch Café program is vital to these vulnerable older adults in defeating poor nutrition and its dire health impacts. Meals are planned and certified by a dietitian to meet one-third of the daily nutritional needs, based on FDA guidelines.
Lunch Serves The Whole Person
This Meals on Wheels Orange County nutrition program not only enhances the physical and mental well-being of our older population, but serves essential human needs by:
Nourishing a sense of dignity
Encouraging participation in stimulating activities
Inviting them into meaningful volunteer opportunities
Supplementing the financial resources of low-income older adults through our contribution-based meals
Connecting them to other services and activities available in the community
Alleviating loneliness, depression and anxiety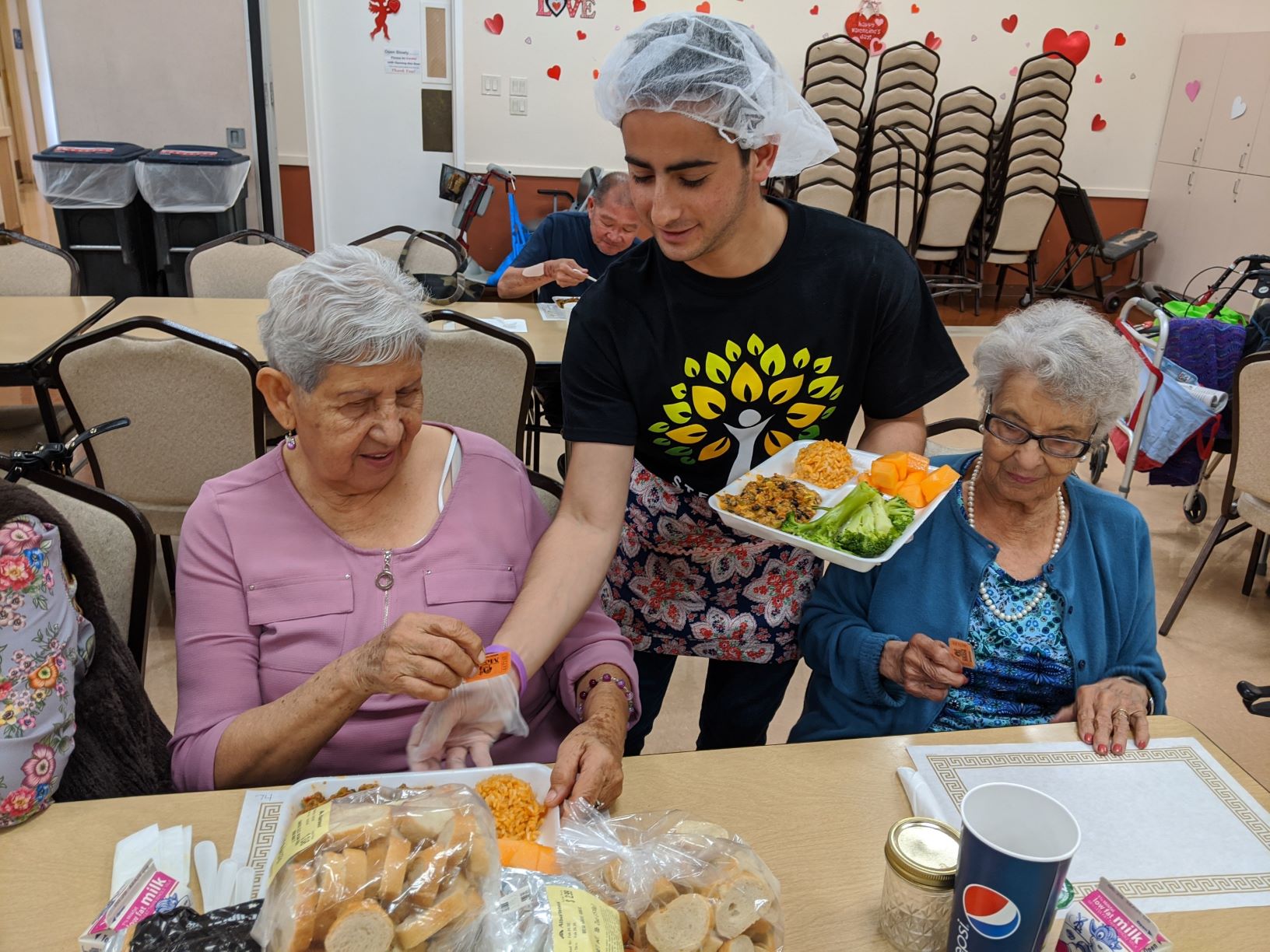 Lunch Sparks A Lasting Friendship: Mickie and Louise

Mickie and Louise were the first ones through the door when the Yorba Linda Lunch Café program began 22 years ago and they have been friends ever since. The lunch program gives them the chance to indulge in new interests together.
"I've been sitting at the same table, in the same chair for 22 years," says Mickie 87. "I was very shy at first…an introvert. I didn't talk to anyone. Because of the lunch program, I've come out of my shell and met many nice friends. I tell people 'keep coming, don't stop'!"
Louise, who lives alone, looks forward to having lunch with Mickie and her other friends at the senior center. "No one wants to eat alone or sit home alone," she said. "Going to lunch is an outing to socialize."
While Mickie and Louise come to the Lunch Café to enjoy a nutritious meal and friendship, they also relish the entertainment provided once a month. "I dance up a storm," Mickie says. "I never danced before coming to the senior center." Louise added, "The secret to longevity is to stay moving all the time and never quit."
Mickie lives with her son but says she is never home. "I don't want to be stuck in a house," she said. "Coming to the lunch program helps psychologically; it makes happier people. Your mind is more active."
Meals on Wheels and Lunch Café are funded in part through a grant from the California Department of Aging, as allocated by the Orange County Board of Supervisors and administered by the Office on Aging.