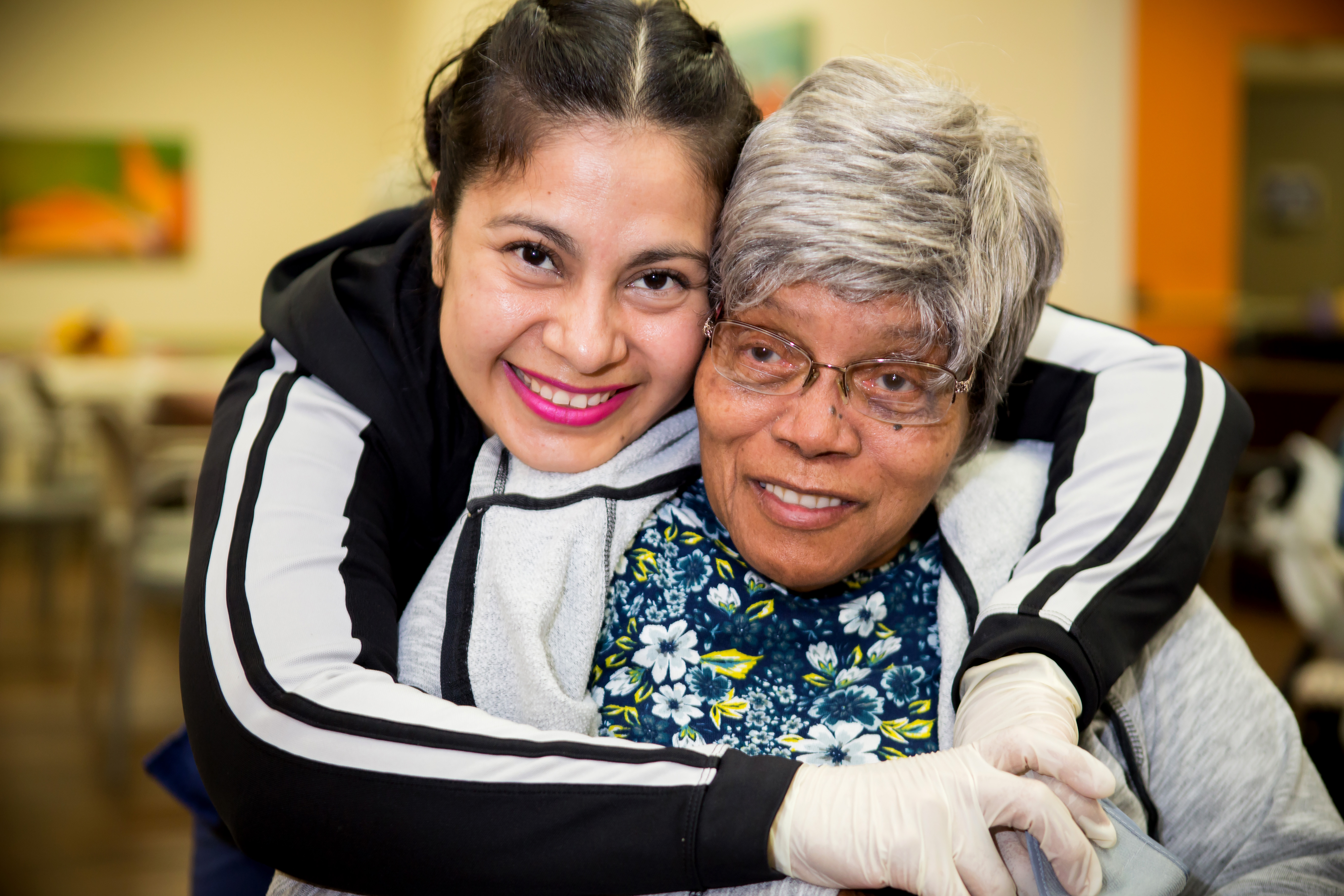 Keeping Families
Together
Center Services are open at our Adult Day Health Centers.
Meals on Wheels Orange County Adult Day Health Care Centers
Anaheim:
1158 N. Knollwood Circle
Anaheim, CA 92801
714.220.2114
Hours: 7:00 a.m. – 4:00 p.m.
Santa Ana:
1101 S. Grand Ave. #K-M
Santa Ana, CA 92705
714.558.1216
Hours: 7:00 a.m – 4:00 p.m.
Meals on Wheels Orange County Adult Day Services
Buena Park:
8150 Knott Avenue
Buena Park, CA 90620
714.826.3163
Hours: 8:30 a.m. – 4:00 p.m
 Member of the Orange County Adult Day Services Coalition
Care During the Day, Home at Night
Day Services are a caregiver's first option for keeping their family together.
Adult Day Services are community-based services that support both the medical and social needs of individuals who are living at home, but need daytime assistance for their health and safety.
Each of our Day Services centers offers a unique set of services to meet your needs in a friendly neighborhood setting. You'll find warm attention, social activities, and compassionate care for those with a disability or who are aging, as well as personal attention to daily medical routines. A choice of activities, exercises and social interaction helps maintain physical and mental health and makes it possible to remain living at home.
Your family member is safe, socially energized and receiving needed nutrition and medical attention during the day.
Day Services support the whole person and actively coordinate with participants, caregivers and primary care physicians.
Adult Day Health Care Centers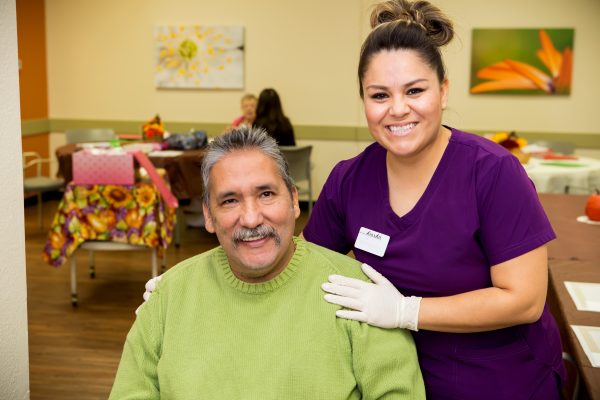 Meals on Wheels Orange County's two adult day health care centers welcomes adults facing challenges with their daily life and physical or mental health that comes with aging, managing a health condition, or a physical limitation. Our person-centered care means, we are prepared to handle a range of complex medical conditions and offer nursing care; medication management; physical, occupational or speech therapy; counseling; eating assistance and more.
Our participants are elderly individuals, or those with physical challenges like Parkinson's disease; people with cognitive conditions, like Alzheimer's; or those who have a life-long disability or are living with the effects of a stroke.
Your loved one is safe, socially energized and receiving needed nutrition and medical attention during the day.
Who Qualifies
You have a medical condition requiring physician prescribed treatment or rehabilitation
You are living with physical or mental impairment that handicaps activities of daily living
You have the capacity to maintain or improve your physical and mental health so you can maintain independence
You may suffer some type of physical or mental deterioration without treatment or rehabilitation
Cost
Fees may be covered through Community Based Adults Services (state program), Kaiser Permanente, Blue Cross Blue Shield, Veterans Administration or private pay fee. Contact us so we can help you with available options for payment.
Adult Day Services Center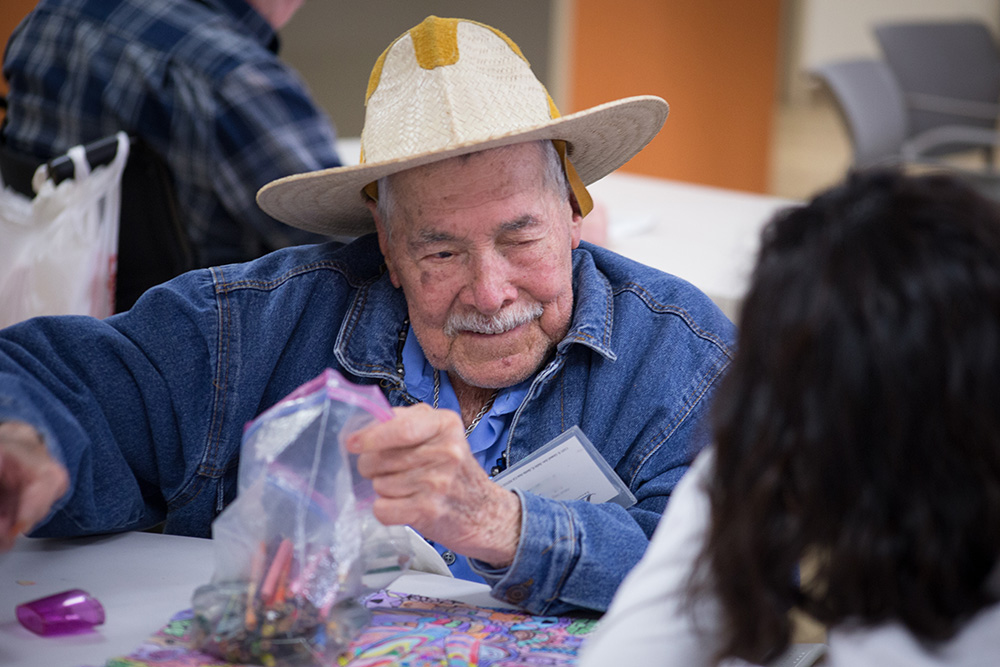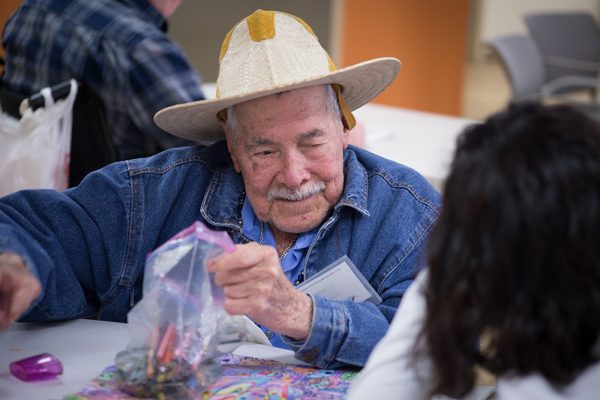 Our Buena Park center welcomes those with dementia or with behavioral conditions needing assistance and care in a supervised, caring environment. As a "social program" this center is primarily aimed at providing social opportunities, recreation, meals, and friendship in a safe environment.
Activities like card and board games and sharing meals together helps reduce the feeling of isolation or depression.
You have the freedom and comfort of having friends and a healthy environment during the day and being in your own home at night. Our Adult Day Services program also provides relief for caregivers who know their loved one is being cared for in a warm, loving environment.
Who Qualifies
You have mild to moderate dementia
You are able to use the toilet unaided or need minimal assistance
You have no need of medication administration during the hours you are at day services
You don't have aggressive behavior episodes or need one-to-one supervision
Cost
The suggested donation is $45 per day of service, a sliding scale is available.
Benefits to You of Meals on Wheels Orange County Adult Day Services:
We are a partner to family members, in-home services and physicians, enabling your loved one to live independently and within their community. Meals on Wheels Orange County Adult Day Services:
Provides whole-person healthcare
Improvement in the ability to carry out daily activities through treatment in a therapeutic environment
Relieves isolation with community companionship and a rich social environment
Contributes to healthy diet with daily nutritious meals
Promotes feelings of self-worth, dignity and independence
Provides opportunity for those needing care to participate in personal interests
Provides comprehensive health services at an affordable cost
Monitors health over time
Ensures medication compliance and coordination
Gives caregivers peace of mind, support, and personal productivity
Keeps your family together
Tony is active, plays bingo, and spends time with his new-found friends.
Before he was a year old, Tony suffered a traumatic brain injury. By 21, his parents passed away and Tony was welcomed into his sister Connie's home. Taking care of him for the last 46 years has been a family affair requiring constant attention and little respite. Tony was often bored having little to do at home.
At 67 he now wakes up each day at 6:30, eager to go to the Meals on Wheels Orange County ADH center. Tony has learned how to take a city bus to go to the store or get a haircut by himself. Connie is happy hearing the highlights each evening: "I know he is safe there. He will have lunch, do his exercises, and receive his daily calcium. I am so grateful."