October 2021: We have an URGENT NEED for Meals on Wheels volunteers in north and central Orange County.
We're looking for adults age 18+ to deliver meals to homebound seniors. All Meals on Wheels deliveries are in the morning Monday through Friday. We ask for a minimum 8-week commitment. If you are interested, please fill out the inquiry form below.
Other types of volunteer opportunities are currently on hold. Thank you for your support and understanding.
Meals on Wheels Orange County has volunteer opportunities for everyone.  Volunteers play an essential role in nourishing the well-being of older adults in Orange County.  Volunteers are needed throughout Central, North, and West Orange County.
A few of our volunteer positions require a background check before you can be approved as a volunteer.  Those that volunteer to work with our frail seniors in Adult Day Health Care may require a TB test prior to approval.  Meals on Wheels and Friendly Visitor volunteers require a California driver's license.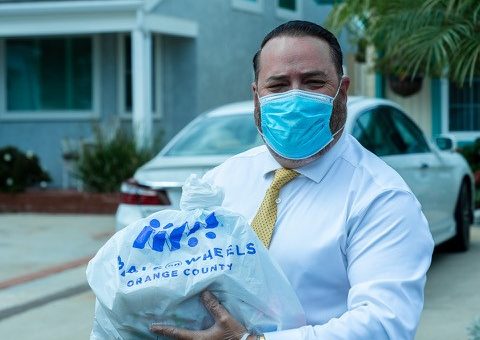 Volunteer opportunities include:
| | |
| --- | --- |
| ·      Office & administration assistance | ·     Group Volunteering |
| ·      Delivering Meals on Wheels | ·      Internships |
| ·      Senior Lunch service and activities | ·      Holiday Gift Program |
| ·      Friendly Visitor | |
| ·      Activities at Adult Day Care centers | |
Volunteer Applications and Documents

Depending on your volunteer interests, you may be asked to complete some of the documents listed. Meals on Wheels and Friendly Visitor volunteers must have a valid California driver's license.