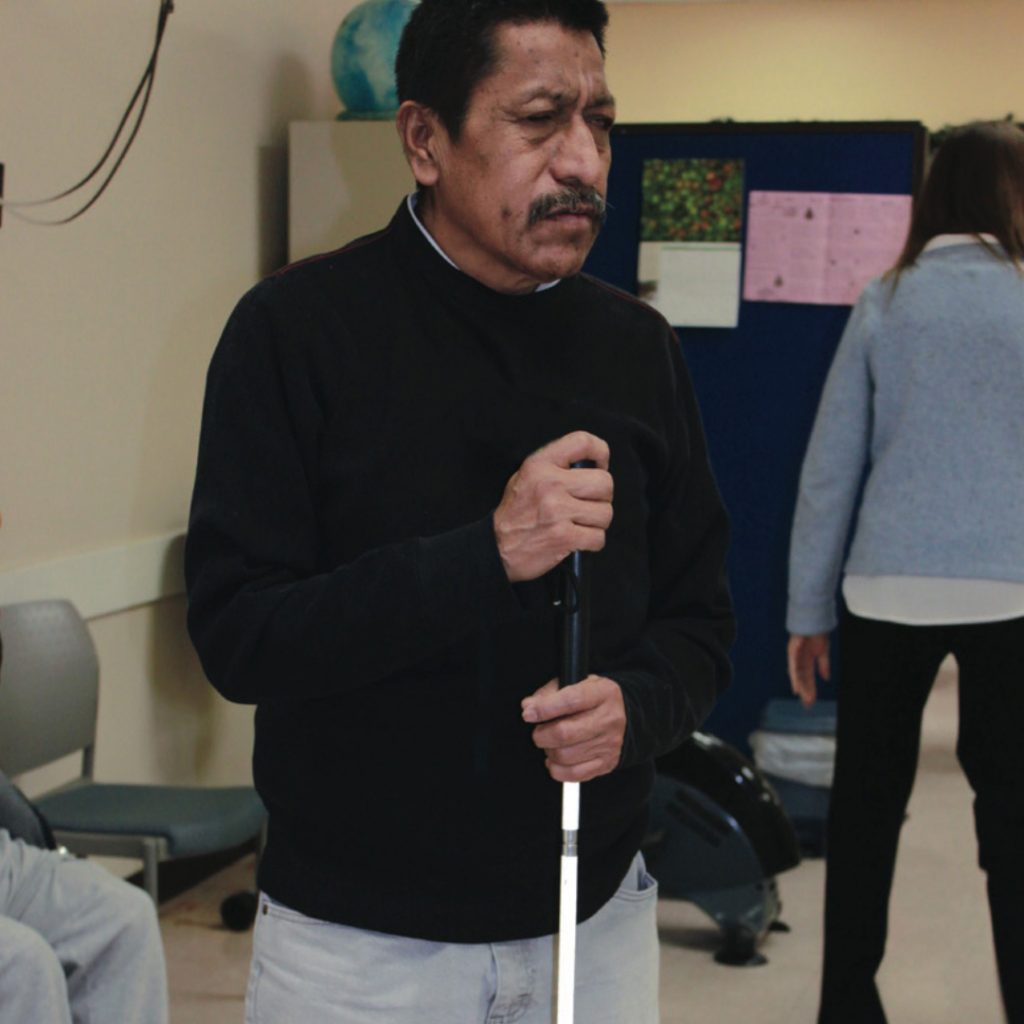 Nicholas Struggles to Cope with Losing His Sight
When Nicholas first came to Meals on Wheels Orange County's Adult Day Healthcare center he was so depressed he did not want to get out of bed, walk, or eat. Three years had passed since a health condition left him blind.  He slumped and walked with his head down. His depression sapped his energy.  He was reluctant to engage with people.  He felt hopeless and he was isolated with no opportunity to socialize except for with his two adult children.
Within a few months of attending Meals on Wheels Orange County ADHC staff began to see a transformation. "Nicholas began to feel a sense of optimism and purpose coming to the center. He began participating in activities, was friendly and polite, and made he friends," comments ADHC Program Director, Adriana Bermudez
The opportunity to socialize and participate in ADHC activities made a tremendous difference in Nicholas' well being, but his blindness continued to limit his life.
ADHC Social Worker, Vianney Moreno, knew the next step in helping Nicholas adapt to his disability was to partner with the Anaheim Braille Institute. It was a match made in heaven for Nicholas. Staff from both organizations joined forces providing Nicholas with low-vision peers and training to learn basic skills to make him more independent.
Nicholas feels like a new man now. With the use of a walking stick, he proudly walks five blocks without assistance. He has learned to count change. Vianney says, "Nicholas has gained a wonderful sense of independence and confidence. He is chit-chatty and walks with a straight posture, his head is up, and he is full of energy. He shares his story and can't wait to motivate others."
Nicholas advises, "Gain your independence. Don't become a burden to your family." He especially encourages those with vision impairment not to give up.  Heinspires his ADHC peers and openly shares that his two adult children are his primary motivation.
The combination of loving care, social connections, stimulating activities and Meals on Wheels Orange County community partnerships has meant a dramatic and life-changing impact on Nicholas and his family.