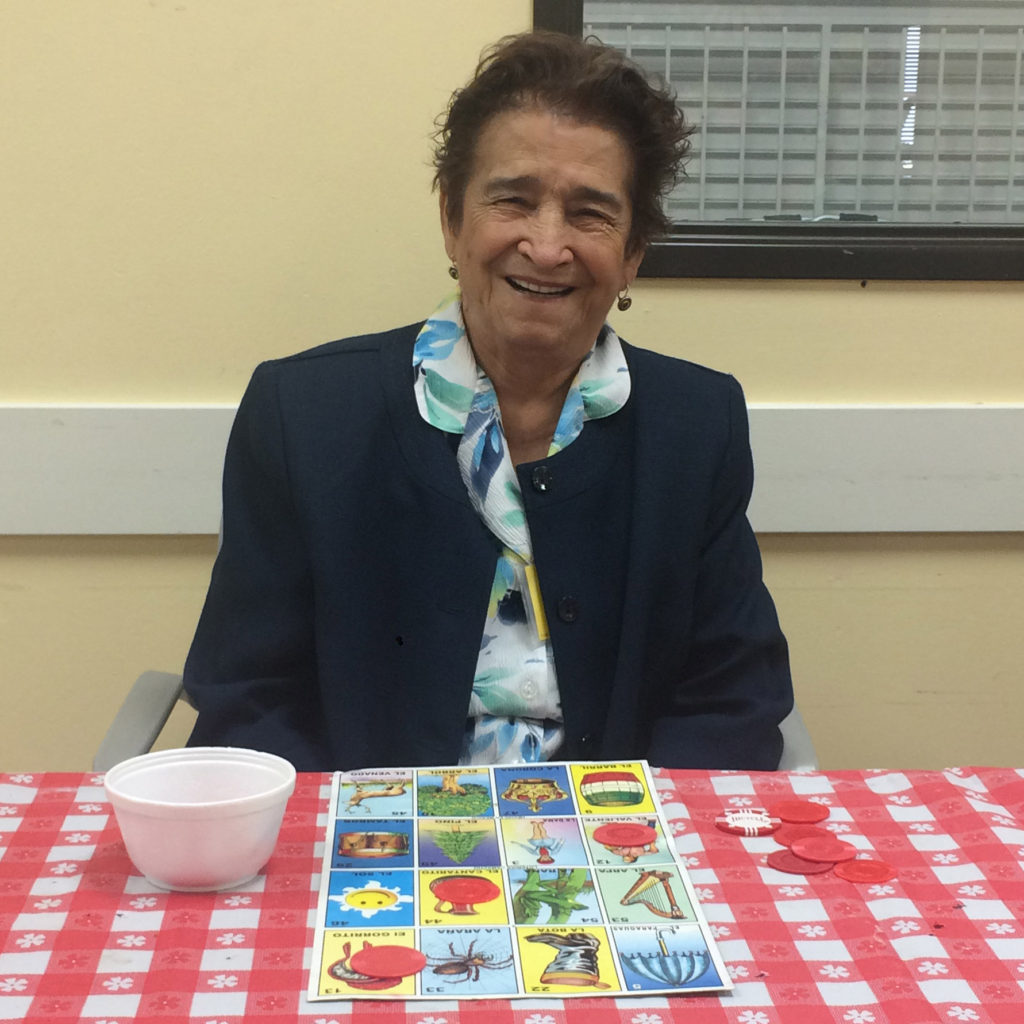 Discovering a Second Family and New Purpose
Meals on Wheels Orange County's Adult Day Health Care (ADHC) participant, Melida, has overcome many difficult financial and emotional hardships throughout her life, but has consistently met each challenge with unwavering strength, determination and resourcefulness.   Now in her 80's, Melida's story and kind, helpful ways continue to inspire her many friends and staff at the Meals on Wheels Orange County ADHC.
Melida was raised in El Salvador.  She was not allowed to attend school because her role was to support her mother at home. She married young, was the survivor of domestic violence and separated temporarily from her husband when she was pregnant with her seventh child (of eight). Because she was not educated, Melida had not developed professional work skills or learned to read, but these hurdles didn't stop her determination to provide for her large family.
Melida quickly used her limited resources to start a business selling chickens and cheese on a street corner in El Salvador.  The business grew and became so successful that Melida was able to purchase some land.  The land was not located in an area where her children could attend high school, so she sold it and moved to a more populated area where her children would have access to education. After the move, Melida began earning a living by cooking.  She was so loved that everyone in her town knew her affectionately as "Mama Lupe."
Through the years, Mama Lupe and her family suffered a series of tremendous losses. In addition to the loss of her mother and husband, Melida's son was tragically hit by an ambulance in Atlantic City after fleeing El Salvador's Civil War. These losses and the war brought tremendous hardship, but Melida found her inner strength and persevered.
Fourteen years ago, Melida relocated to Anaheim and now lives with another son and his family.  She has learned to read Spanish and has been a participant of the Anaheim ADHC for eight years, where she is admired for her leadership and kind ways. Melida feels that the staff and participants are a second family, and she acts as an advocate at the center.   "We all look out for each other," she explains.  She provides an extra set of eyes and ears, and alerts staff if she sees anyone needing assistance. "Melida is a strong, independent and spiritual woman who always has a smile on her face," described ADHC Social Worker Vianney Moreno.
Melida is a leader in her Spanish speaking women's group at the center and, when needed, has an aptitude for re-directing conversations in a gentle way.  "I like everything to run smoothly and bring peace," says Melida.  She likes being active, taking part in a literary program taught by another participant who is a retired ESL teacher.  She also enjoys playing Loteria (a Spanish form of BINGO) and loves to dance.